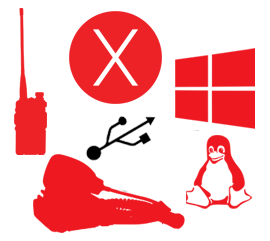 Uses the familiar RX frequency and ± Offset for repeaters

Allows 7 Character Alpha Tags (was only 6)

Upper & Lower Band Limits for TX on VHF & UHF

TX Inhibit for Scanner Only frequencies
Remembers the COM port setting between sessions

Remembers the last folder loaded from or saved to between sessions Supports serial ports up to COM256

Displays the actual Firmware release on the BaoFeng Radio
WINDOWS TIPS:
CHIRP is supported on Windows 2000/XP/Vista/7/8.1/10/11
Windows XP users may need to follow the instructions here if you have trouble starting CHIRP.
MAC OSX TIPS:
MacOS users must install the KK7DS Python runtime before the application will execute. This only needs to be installed once. OS X support is limited to Intel architecture. PowerPC is not supported.
Chirp.app is unsigned. With default security settings, you will need a special procedure to run it: Application Security in 10.9. More useful tidbits can be found at MacOS Tips.
LINUX TIPS:
Most modern distributions should have almost everything required to run chirp. Make sure you have python-serial and python-lib-xml2 packages installed. For more information about using CHIRP under Linux, see the Running Under Linux page
CHIRP Guides and Helpful Resources:
CPS OEM Programming Software